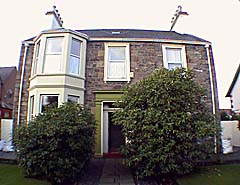 The front of the Old Manse, our home for our last night in Scotland. Our room looked out of the upstairs bay window and the window over the door.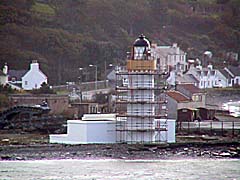 This lighthouse was one of the last sights we got to see in Scotland.
---
Week 3 began Tuesday, October 16, in the Scottish harbor town of Stranraer. We had stayed the night before in a magnificent room at a guest house called the Old Manse. It's actually listed in Lonely Planet and Rough Guide guidebooks, but we got referred to them by the TI. As we were finishing breakfast, we got into a chat with Marilyn - our hostess - on the state of world events right now. She felt a lot like we do; that the governments (British and American) and media are whipping up an atmosphere of fear, hysteria and paranoia; and that they can't be trusted to be telling the whole truth. We talked briefly on the troubles at our next destination - Northern Ireland - and her thought was "why can't people just get along?" Our pleasant conversations continued as she was kind enough to give us a lift to the ferry terminal, just in time to get on the boat for Belfast.

We presented our tickets that we'd bought the night before (21 pounds for each of us as foot passengers) and proceeded to the security check point. Large bags (such as our backpacks) were required to be checked, but first they had to be searched ... thoroughly. Each of us had our packs pretty well picked through, but the security people were fairly gentlemanly about it ... they just wanted to know that we weren't packing any bombs or anything. After a quick pat-down search, we parted company with our big packs and proceeded down the walkways to the ship.

According to our map, it's about 50 miles between Stranraer and Belfast, and we made the crossing in about two hours. Most of the lower decks were filled with cars and trucks, while the passengers had to hang out on one deck that ran the length and width of the ship. It was actually quite a cushy place. Our only complaint is that the only outdoor place to hang out was a small porch toward the stern, where we stood for a while to watch Scotland disappear behind us. The rest of the crossing was spent sitting at a table in one of the cafes with our laptop, formatting the new pages for our web site.

The ferry terminal in Belfast is quite a ways from the train station. After being reunited with our packs - they were waiting for us as soon as we got to the carousel - we caught a taxi to the station and waited an hour and a half for the next train to Londonderry (Derry, as they call it here). While we waited, we chatted it up with a young guy at an information desk about his past and future trips to America and Canada.

The Belfast train station was kind of a dumpy place (though they were in the midst of a remodelling project which should change that), and the train was no different. The aisles were narrow, but the seats faced each other in a way that afforded lots of leg room. Some of the windows didn't close, one had been shattered but not yet replaced, so it was breezy and noisy. The train violently bounced and rocked as it charged on toward Derry. We almost felt like we were in the third world, but at least this train wasn't crowded. For a place that's supposed to be a part of Great Britain, Northern Ireland sure seems to be getting the short end of the stick.

Before leaving Belfast, we'd called ahead on the bus schedule from Derry to Donegal, and we were told that there'd be no more buses after we arrived at 4pm (this turned out to be inaccurate information). So we decided to spend the night in Derry. After a long walk to the TI, we got booked into a nice B&B called the Acorn. We got settled into our room and took a walk downtown for some dinner. We were surprised at the number of places that seemed to be catering to American tourists. There was an "American steakhouse", and we saw a place advertising food "to go" (complete with the quote marks) ... such food is normally referred to here as "take away." Prices seemed to be a bit inflated, but we finally found a place that satisfied us ... we ate Italian food while listening to Mexican music.

As we walked about, we saw the usual ancient structures: city walls from the 17th century, an old abbey, and so forth. Londonderry has a rich history, both ancient and recent. The only evidence we saw of the "troubles" that Americans associate with Northern Ireland was in the storefronts; as they were closing for the night, they pulled down the rolling steel grates that are familiar in American "rough neighborhoods." But as we walked home at 8:30pm after doing some grocery shopping, we felt just as safe - if not safer - than we would have in most American cities of that size.

Our biggest regret on our time in Derry was having left the cameras in our room while we went out shopping for food ... there were many things there that would have been good to photograph.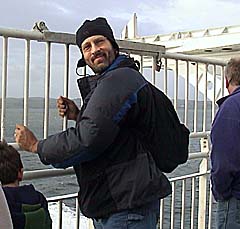 Obbie greets the camera from the stern of our ferry leaving Scotland.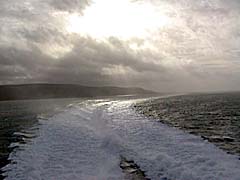 The wake of our ferry as we say good-bye to Scotland.
---