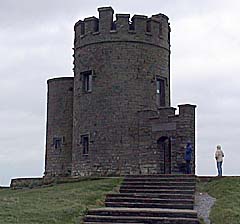 This old tower was on the high point overlooking the Cliffs of Moher.
---
Friday was another travel day as we continued south to the city of Tralee. On the way there, we got to spend about an hour and a half at the Cliffs of Moher. This is Ireland's answer to California's Highway 1, except that the cliffs do not have a highway carved into them. A fierce wind blew as we trudged up the stairways to an old stone tower on the cliffs' high point. The cliffs were straight walls facing the ocean hundreds of feet below us. We could watch the movements of the wind as it made its marks on the water. Occasionally, we would be pierced by raindrops carried by this unrelenting wind. Some of the hardiest souls we ever met in Ireland were the buskers playing traditional folk songs for the visiting tourists. We gave them some coin, and went in for some coffee.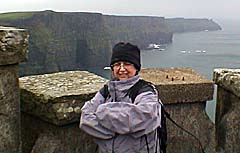 RoZ winces like a cat left out in the cold wind and rain, from the top of the tower overlooking the Cliffs of Moher.
---