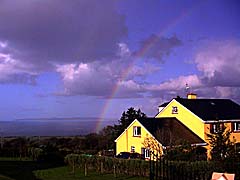 A rainbow is finally kind enough to pose for a photo on the way back to Tralee from Dingle.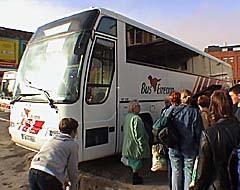 Some passengers line up to board Bus Eireann in Cork.
Some boats docked at Waterford harbor.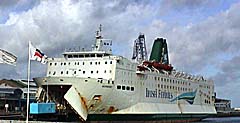 A view of the ferry "Normandie" as it sits at the dock in Cherbourg.
---
Our bus back to Tralee passed through some brief but intense rain showers. Ireland had been quite generous in showing us rainbows, but they were always quite elusive to our cameras. We only saw rainbows through train or bus windows, and by the time we'd have the camera armed and ready they would disappear behind roadside trees. But the Dingle Peninsula rainbows were kind enough to pose for pictures, which we are happy to display on our web site.

We got back to Tralee to find the streets had been drenched. While Dingle town was bathed in sunshine, Tralee was enduring a soaking rain. Talk about being in the right place at the right time! After settling down for a bit, we ventured back out as the sun was going down. We felt compelled to stop at a pub called the White House, as it was adorned with pictures of RoZ's cousin Abe Lincoln. In spite of there being about nine different beers "on draught," the only one they were willing to sell us was Guinness. (At least they didn't force us to drink Crudweiser, which they also had). So we slugged down our pint while poorly-focused images of Irish MTV played on the big screen. A two-year-old toddler - who's parents were both either staff or regulars in this establishment - toddled about the place while we wondered what becomes of kids who grow up in pubs. We retired to our room early after picking up some very good Chinese take-away from a place across the street called "Ho Kee".

Sunday was another day that we needed to start early. We had to be in Rosslare Harbour for our ferry to France by 4:00pm, and the only bus that would get us there on time left at 8:50am. We got packed up, slammed down our breakfast, and signed a credit card slip to pay for our room on our way out the door. The sandwiches that we prepared the night before were left forgotten in the fridge. Hopefully, our hosts enjoyed them.

We were trying to use up our Irish cash without needing to get some more. Bus fares can be paid to the driver in cash, or by credit card at the ticket office. We'd planned on buying our tickets for Rosslare at the ticket office and saving what little cash we had left for food and such along the way. But the ticket office wouldn't let us buy tickets for Sunday on Saturday, and on Sunday they weren't open. So there we stood as we rushed to the door of the bus on Sunday morning, with not enough cash to pay our fare, and no way to pay by credit card. After explaining our situation to the station manager, he said he'd have a chat with the driver, and then told us we could buy our tickets at the ticket office in Cork.

When we got to Cork (a much more picturesque city than we'd expected, we wish we'd spent a night there), Obbie got in line to pay for tickets and worried that there were no credit card stickers in the office window. Another driver came up to him and said "don't worry about it, get on the bus." After six hours and five different drivers, no one had pressed us to pay for our tickets.

After having dealt with grouchy and curmudgeonly bus drivers in America, we found the drivers for Bus Eireann to be absolute saints. They knew the difference between someone looking to take advantage of their magnanimity, and someone who was genuinely willing and able to pay but having difficulty doing so. Sometimes their generosity arose from the need to maintain the schedule. For example, at one point a little old lady got on the bus to ride to the next stop. Rather than wait for her to fumble through her purse for the small bit of change she needed, the driver let her get on the bus for nothing so he could keep the bus moving. And the two shaggy purple Americans in the front seat were passed from driver to driver, each one letting them slide. An American driver would have directed them to the nearest cash machine, and then left without them when they didn't make it back on time. We should also mention that Irish buses are not equipped with on-board toilets as American buses are, and the kindness of the drivers also extended to accommodating bathroom breaks.

At a bit past 3:30, we were deposited at the front door of the ferry terminal. At the door we found the last green Irish mailboxes we were going to see for a while, so RoZ quickly finished writing a postcard to use up our last Irish stamp. Obbie went to the ticket counter to settle up for two foot passenger fares with a Europass discount, and the night's rent on a cheap cabin in the bowels of the ship. It all came to 72 punts, or roughly $85.

We waited in the upper level of the ferry terminal as we watched cars and trucks being loaded on; and we looked out at a long enclosed tube, which was our walkway snaking out toward the far side of the ship. We got our boarding call at 4:30pm, showed our passports to a security officer at the entrance to the walkway, and embarked on the long march to the boat with our packs rolling on a trolley in front of us. As we lifted our packs off the trolley and stepped on board we were greeted by some members of the crew.

In his brief exposure to Navy life, Obbie was taught that this is the part where you snap to attention, salute, and sound off, "permission to come aboard, sir!" But these crew members were not here to exercise boarding protocol, they were here to upgrade our cabins. This sailing had so few passengers (216 people on a boat designed for 1600) that it wasn't worth it for them to have people scattered around in the cheap rooms in the bow on deck 2. So they gave us a room with our own bathroom on deck 6.

The cabin measured about 4x6, with bunk beds occupying half the space. A tiny bathroom extended another 3 feet off one end. There were no windows, and barely enough room to get around each other to get through the bathroom door. The cabin was not a place to hang out. It was a reasonably comfortable place to sleep, and a place to keep our stuff.

After locking our stuff in our cabin, we went out to explore the ship. Most of the interesting stuff happened on decks 7, 8 and 10. Deck 10 was where you go to sit outside. Most of that deck was open, with lots of benches and wind screens in appropriate places. Deck 9 was mostly reserved for the crew, but there was a walkway around the perimeter of the ship. This was also where the life boats and other emergency equipment were kept, which we made careful note of, having once sat through "Titanic." Most of the facilities and amenities were on decks 7 and 8. There was a coffee shop, gift shop, cafeteria (they call it a buffet), and a foo-foo sit-down restaurant. There was a large pub/lounge/disco at the stern on deck 7, where we nursed our last pint of this visit to Ireland. Not surprisingly, there was no place to watch the Packer-Viking game, which we knew was starting at 6:00. So instead we went to the on-board cinema to watch "Shrek." In spite of some annoying glitches from the theatre's video projector, we thoroughly enjoyed "Shrek." We later learned that we would not have enjoyed the Packer game at all.

Fortunately, the sea was relatively calm for this voyage. The little white paper bags scattered around the ship were never needed. It was funny when we sat down for our buffet meal Sunday night ... the place mats on our table were inscribed with the words "Bon appetite!" even though the barf bags were conveniently placed right beside them. Sleeping on bunk beds was like being kids again, and the ship gently rocked us to sleep.

Going to the continent meant changing time zones, so we'd lost an hour over night. We had the luxury of sleeping in, which we did until 9:30. With no windows or any other source of outside light in the cabin, we had no way of knowing whether it was noon or midnight. Obbie woke up with a case of the sniffles, probably from too many days in stuffy enclosed spaces like buses and ship cabins.

We took in a light breakfast at the coffee shop, and took a walk around the deck outside for some fresh air. Then we sat down at some tables on the starboard side of the ship to watch the French shoreline come into view and slide past us. When the captain's voice came over the loudspeaker telling us we were pulling into Cherbourg harbor, we went to our cabin to pack our bags.

The crew didn't know (or wouldn't tell us) from which part of the ship we'd be disembarking. Through the window on the starboard side, we could see a gangway being aimed at a hatchway on deck 6. We stood by the open hatchway, breathing the cool French air blowing through it while we watched workers lining up the hatchway with the gangway. Some French-speaking college girls with Swiss passports engaged in some rowdy horseplay, and if we hadn't been tolerant we'd have been annoyed. When the mating of gangway to ship was complete, the girls ran through the hatchway and we followed them out of Ireland and into France. As we marched down the gangway whistling the French national anthem, we were greeted by annoyed backward glances from the college girls.

It is on this Monday morning (October 22) that we will end week 3 and start week 4. We'll take a badly needed day of rest in Cherbourg while we adjust to dealing in a foreign language. By this time next week, we should be somewhere in Switzerland after visiting Paris and an American friend in Freiburg, Germany. We hope that our friends and family are all doing well, and we enjoy reading your messages from across the sea.*

*This is not to exclude our friends on THIS side of the sea ... we enjoy hearing from you, too!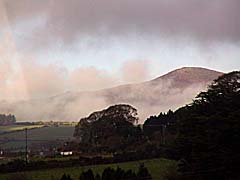 A view of the morning fog brushing over the mountains as we head east from Tralee early on a Sunday morning.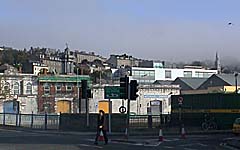 A view of Cork from the bus station.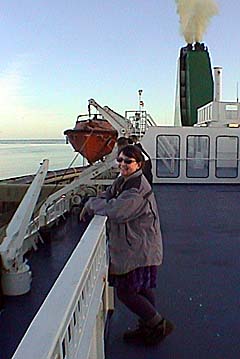 RoZ waits on deck 10 for our ferry to get underway to Cherbourg, France.
---