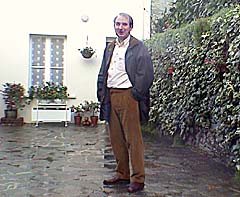 Jean-Claude, our host in Cherbourg, poses in his garden.
The Hotel de Police. You do NOT want to book a room here.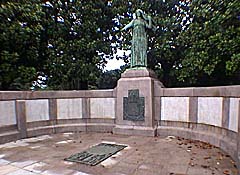 A memorial to the men of Cherbourg who were lost in the first World War.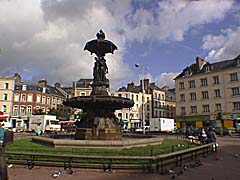 A farmers' market surrounds this fountain in central Cherbourg.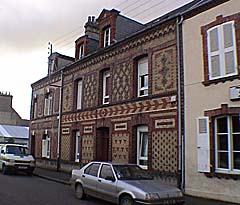 The French seem to be artistic with everything, including their brick work.
---
This week began Monday, October 22, in Cherbourg, France. We found our way from Ireland to France on an Irish ferry called the Normandie. As we reached the bottom of the gangway we were herded into a bus that would take us to the ferry station. Never mind that we could see that we were in the heart of the city. We couldn't officially be in France until we left the ferry station half a mile away. We figured that would be where we'd have to go through customs.

We got off the bus and found signs in French and English for immigration and customs. A French police officer greeted us as we came by. We both had our passports out, and RoZ handed hers to the officer first ... he handed it back without even opening it, and waved us by. It was time to start speaking bad French for a few days.

First we needed French money - at least if we wanted to eat anytime soon. There was a money-changing office there (which we usually try to avoid, as their rates are usually pretty bad), but no cash machine. So we bought about $40 worth of Francs (we got FF270) and then some French sandwiches from a fast food place that was there. The TI in the ferry terminal was closed, so we spent a good deal of time sitting there trying to figure out how and where to find a place to stay.

Eventually we boarded a bus for central Cherbourg and landed at the TI there. They had a one-page list of reasonably-priced pensions (the French term for guest houses) and were kind enough to make a couple of calls for us until there was a room with our name on it. With a local street map in hand, we embarked on the 20-minute hike to our home for the next two nights.

Jean-Claude is the owner of one of the nicest places we'd ever stayed in at any price, but all we had to pay was the equivalent of about $25/night. His English was very good (though he wouldn't admit it), or at least good enough to conduct a good and meaningful conversation with some American guests. What he had was a guest house as we Americans use the term. Behind his own house there is a courtyard, and behind the courtyard is a spare house that he rents out to guests. The door opens into a small dining room where we had breakfast. A spiral staircase leads to the upstairs where there was a sitting room, the bedroom, and our own bathroom with shower. If we'd wanted to, we could turn on a tv and watch the news, Batman cartoons, or Baywatch in badly lip-synched French.

After three weeks in the British Isles, we really appreciated French coffee. The rest of breakfast consisted of a croissant, bread (those long sticks of French bread, cut up into manageable lengths), butter and jam. It doesn't sound like much, but it stayed with us through much of the day, and it was a welcome change from the meat-heavy breakfasts of Britain and Ireland.

We learned a couple of other things right away about eating in France. The sit-down restaurants close between the end of lunch and the beginning of dinner, and dinner doesn't start until 7pm. So the only sit-down meal we had in Cherbourg was a "breakfast" we had in the early afternoon on Tuesday. Our best food in Cherbourg came from a charcouterie (sp?) in the vast pedestrianised area in the center of the city. A charcouterie is like a deli, with lots of different salad specialties. The proprietor did not speak or understand any English, so we did a lot of pointing and miming and smiling and illustrating amounts with our fingers. We thought her food was great, but the only way we were able to say so was by coming back the next day.

Jean-Claude is a retired policeman, and on Tuesday he had a meeting to go to at the old station, so he walked downtown with us to show us the Farmers' Market in the central square and to generally help us get oriented. We saw the station while we were on our way into town on the bus ... above the door are big letters reading "Hotel de Police." We knew we didn't want to stay there, but Jean-Claude told us that sometimes someone would come into the station trying to book a room. "We have rooms, but they are not very well heated," he said.

We've been told that Cherbourg has the largest artificial harbor in the world. A massive wave of European emigrants passed on to America through Cherbourg. Today Cherbourg remains an important freight and fishing port; and local maps indicated a sizeable military installation nearby. Most tourists are pilgrims to the nearby D-Day landing sites, or they are passing through on the ferry (as we were). We walked back for another look at our ferry, which was still parked at the dock where it left us. On the way we watched a swing bridge open for a passing fishing boat. We ooh-ed and awe-ed at all of the French sculpture that seemed to fill every empty space on the exterior walls.

Jean-Claude was more than kind. He eased our transition into French language and habits, let us do our laundry at his place (and guided us through the process), and gave us a ride to the Gare (train station) on Wednesday morning, yet he didn't want to let us round our FF360 ($50-55) bill for two nights up to FF400 ($55-60). We really enjoyed our time in Cherbourg, as everyone we met was very kind to us.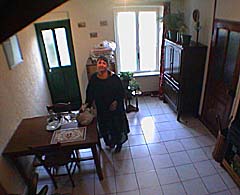 RoZ looks up from the dining room of Jean-Claude's guest house in Cherbourg.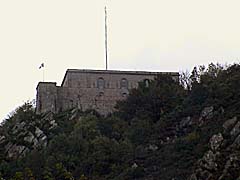 This 19th-century castle overlooks the city of Cherbourg. We did not go there.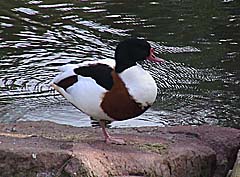 A local duck poses for a picture.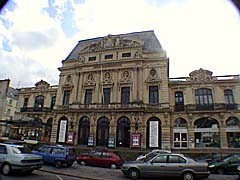 The grand facade of Cherbourg's theatre.
---