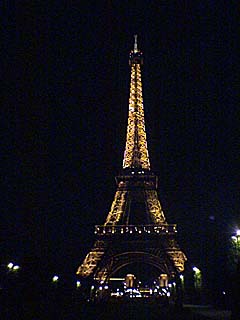 No visitor is allowed in Paris without photographing the Eiffel Tower.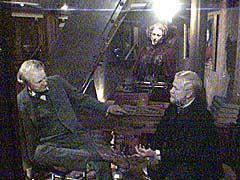 Mr. Eiffel kept an apartment in the top of his tower, where he once met with Thomas Edison. A part of that apartment is now kept as a representation of how it looked during that meeting (Eiffel's daughter is in the background).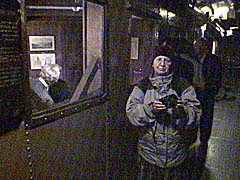 RoZ readies her camera from outside the Eiffel apartment.
---
We'd been told the Metro would be shut down due to a strike on Thursday, so Wednesday night was our only chance to see the Eiffel Tower. We had more of an adventure getting there on the Metro than we'd counted on. After being forced to go down the up escalator, we knew that we couldn't directly transfer from a numbered train to a "lettered" train. We also learned that some of the tunnels connecting one line with another can be a block long. This little Metro trip was turning into more of a walk than we'd counted on.

You can't appreciate the size of the Eiffel Tower until you've stood under it. Seeing it at night is a different experience from seeing it in the day. It costs less than $10/person to ride the elevators to the very top. Most Paris landmarks, including the Eiffel Tower, are bathed in flood lights at night. That makes the landmarks easy to spot from the viewing platforms, and with the right instrument it's not hard to get a passable photograph.

We probably had more fun being there at night. Most of the other people there were either from a large Belgian school group that showed up (how'd you like to have gone to the Eiffel Tower on a high school field trip?), and lot of young couples and tourists trying to avoid crowds. We had great chats with some British tourists, and a 16-year-old girl from the school group. We took tons of photographs, but the digital shots are kinda dark and grainy - but passable. You have to change elevators on the second level, where there is a gift shop, toilettes, and a pay phone. We had a phone card that wouldn't work outside of France, in spite of being promised that it would. So we made a whole bunch of phone calls home from the Eiffel Tower.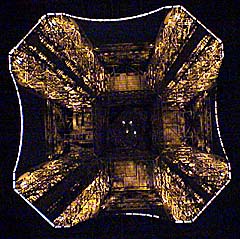 An uncommon view of the Eiffel Tower, looking up from directly beneath it.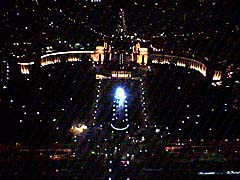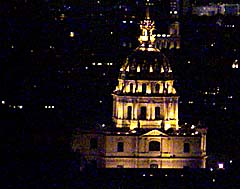 Two Paris landmarks as viewed at night from the top of the Eiffel Tower: the Trocodero (top), and Hotel Infideles (bottom).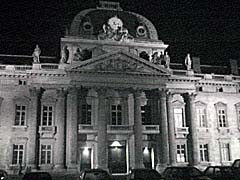 The entrance of L'Etoile Militarie (military academy), as seen at about 11 pm.
---