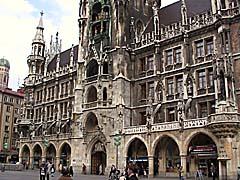 A wide view of the Munich Rathaus (city hall).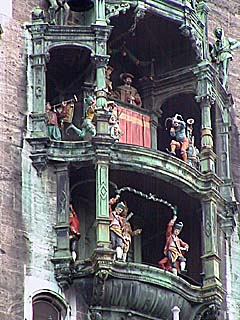 Detail of the Glockenspiel in the Munich Rathaus.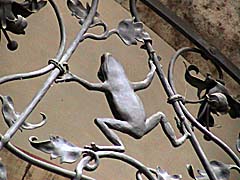 This frog is in the ironwork of a gate within the Rathaus walls.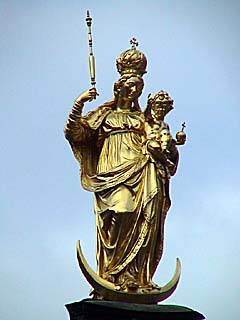 This Madonna sculpture sits atop a tower in the Rathaus Platz.
---
On Monday morning we had breakfast at the buffet of the Hertie's department store across the street from the Bahnhof. Hertie's also was a Mac dealer, but they could not help with our problem. After we took care of our picture-taking duties in central Munich, we tried another department store (Karstadt AG Oberpollinger on Neuhauser Strasse), and the techie there was very helpful and loaned us an OS 9.2 update CD. We updated, put the bad (hopefully now good) extension back in its place, and ... locked up again! Our techie pal came up with a software restore CD. We copied all extensions from the CD into our extensions folder, and HOORAY!! it was fixed.

Back to the InterCity Hotel to get the mail sent out. Once we got the right modem cable into the right phone jack, we got the web site cleaned up. We pulled in incoming mail. But Earthlink still would not accept our outgoing mail. Since Faith is on Earthlink also, we could send mail to her, and hopefully she got our message relayed to all of you. All of this took longer than we wanted it to, and it was 4:30 before we were on a train bound for Salzburg, Austria.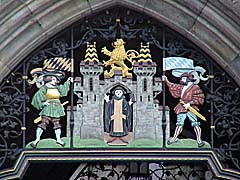 The artwork above the main entry gate to the Munich Rathaus.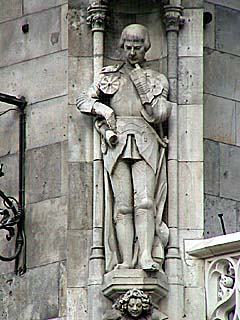 One of the many sculptures on the outside walls of the Munich Rathaus.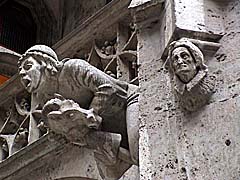 These gargoyles are on the spiral staircase in the Munich Rathaus courtyard.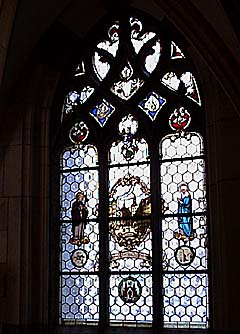 This stained glass in the Munich Rathaus illustrates that the Germans do not necessarily believe in seperation of church and state.
---