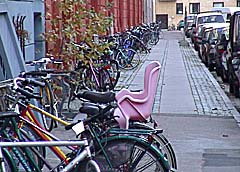 In this Copenhagen neighborhood, there are far more bicycles kept than there are cars.
From what we saw in Copenhagen, the Danes are the most bike-happy people we've come across. We'd already read about how taxes, registration fees, and insurance make car ownership obscenely expensive. What we found was a city overrun with bicycles of all shapes and sizes, and a street system that gives the bicycles a lot of space. Most major streets had two curbs on each side: one to separate the motorized lane from the bike lane, and one to separate the bike lane from the sidewalk. Bicycles and pedestrians are given generous amounts of space on both sides of the street. Our biggest problem with traffic was that the cars were all driven very aggressively, but then we found this to be the case all over Europe. It seems that the rich and arrogant drive that way everywhere, and in Denmark the rich and arrogant are the only people who can afford to drive at all.

The other seemingly trivial thing we must point out about Denmark is the quality of the toilets. Nowhere have we found such stylish and immaculately maintained potty rooms. Even the funky hippie cafe in Christiania - where we'd had breakfast a couple of times - had toilets that looked like they belonged in a five-star hotel. The toilets on the Danish trains were the most pristine we'd found on any trains in Europe. We don't know what it is except that the Danes must have very high standards when it comes to maintaining their privies.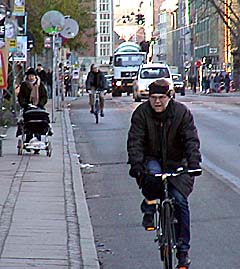 Most major streets in Copenhagen have bicycle lanes that are well segregated from pedestrian traffic on one side and motorized traffic on the other.