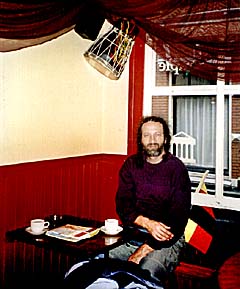 Obbie looks up from his coffee in Amsterdam.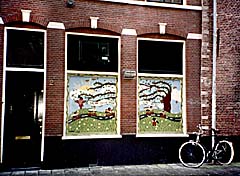 Artwork decorates this window on a Dutch street.
One of Amsterdam's most distinctive characteristics is its canals, which form concentric semi-circles radiating out from the Centraal (yes, it's spelled with two a's) train station. The streets follow this pattern as most of them are alongside canals. Most of the city that we saw was very bicycle and pedestrian friendly, and they have an extensive system of buses and trams as well as a high-speed underground. As a result, most people are content with their bicycles, but the small number of people who drive cars in Amsterdam do it so aggressively that we're amazed that people don't get run over regularly.

We should also talk about the motorized scooters, the mopeds and micro-motorcycles that seem to be quite popular in Amsterdam and many other European cities. In our country, they are not normally tolerated on sidewalks and in pedestrian zones, but they are here. They are noisy and obnoxious, and too many people drive them too fast and dangerously for us to feel comfortable sharing walkways with them.

We got back to Haarlem early enough to eat some Thai food and lounge in our room for a while before heading back to the Sauna Center for our massages. It took us a long time to find this out, but in Scandanavia and northern Europe, most cities of any size have at least one bath house like this. This place had a very hot sauna, a steam room, a hot whirlpool bath and showers. All of the facilities are coed, towels are provided, and all clothing is to be left in a locker while the attendant holds your key. Hanging out naked in a public bath house may be foreign to us Americans, but our hang-ups toward nudity are just as foreign to Europeans.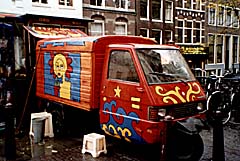 A three-wheeled truck makes a delivery in Amsterdam.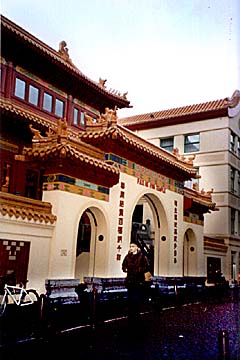 A Temple in Amsterdam.