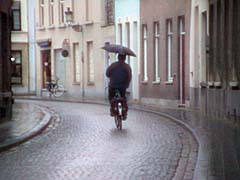 A bicyclist makes his way home on a rainy afternoon in Bruges.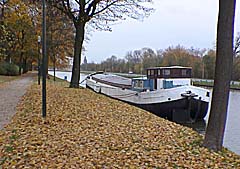 A barge waits in Bruges' main perimeter canal.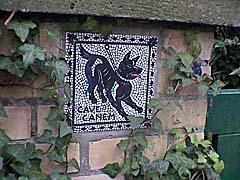 We think this was a sign for a dog path.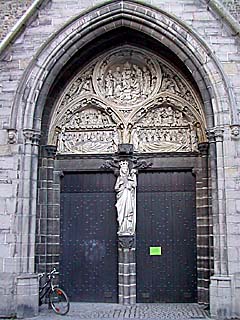 A door to a Bruges cathedral, with a close-up of some of the detail below.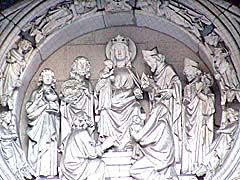 Historic Bruges is home to about 15,000 people and isn't much bigger than a large university campus. Map in hand, we plotted a looping course through the backstreets and neighborhoods of this old city. Visually, it turned out to be everything that the guide books promised. From the canals to the cobblestones to the artistic detail of the old houses, it's easy to believe that this city looks much as it did 500 years ago. On Tuesday we had lunch next to a park on the northeastern edge of town where there was a line of four windmills - the kind you find on Dutch postcards. On Wednesday we saw an amazing art collection in a local cathedral, including a sculpture by Michaelangelo.

One of the first pieces of advice we received in Bruges was not to eat in the restaurants on the main squares, since they were badly overpriced. The best food was to be found on the side streets, which was where we ate. The meals we had were great, and they were a good value. We also got to sample a small assortment of fine Belgian beers, though we missed the local brewery tour. One of our great regrets is that we didn't get to do one brewery tour in Europe.

As darkness set in on Wednesday, we found a computer store that sold Internet access. The week 7 update had been written and needed to be sent out. Through the door we found a room lined with cardboard boxes, and among the assortment of PCs in various stages of assembly were a couple of machines that were running Satan's web browser (aka Internet Exploder). Finding a stray ethernet cable, we plugged it into our laptop and it let out a sound that's sacrilidge in a PC shop: a Macintosh start-up chime. Incoming mail flew in, but our new outgoing mail server wasn't responding. On the web, we checked network status and Yahoo (our hosting provider) acknowledged problems with the outgoing mail server. The guy at the store counter suggested that we route our mail through their server, which worked flawlessly. Most of you got the week 7 update at around noon Wisconsin time. Since we didn't use their computers, the guy at the store didn't want to charge us for our Internet time.

On our way back to our room we stopped at a charcuterie to buy food for Thursday's train trip to London. While we were there we noticed two or three Santa characters prowling the neighborhood. It was part of a promotion for a nearby restaurant. They handed each of us a little bag of goodies including an apple, a few cookies, and a coupon for the cafe that sent them. They took special care to make sure we saw the coupon. The only odd thing is that instead of white beards they wore blackface make-up. We don't know if that's the local Santa variation or what; but then we recently learned that Santa originally wore a blue suit, and that it only became red when a certain American soft drink company started putting Santa images in its advertising. The blue suit didn't fit in with the corporate color scheme, so it became red.
This bandshell is in a Bruges park.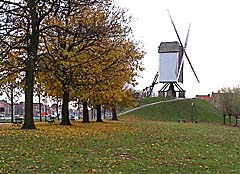 An old Belgian windmill at the edge of Bruges.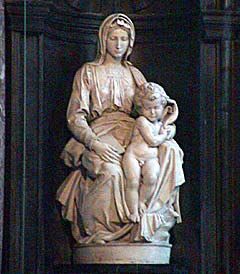 A white marble Madonna and Child by Michaelangelo is kept in a church in Bruges along with a wealth of other religious artwork, including the Last Supper relief in the picture below.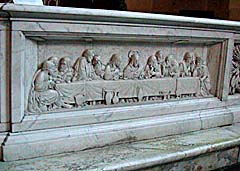 ---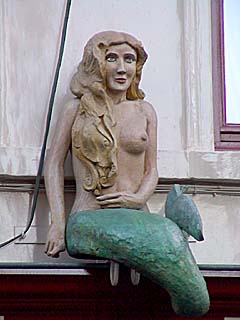 After hours of photographing religious artwork it was refreshing to find this mermaid, which turned out to be the last digital photograph we took in Europe.