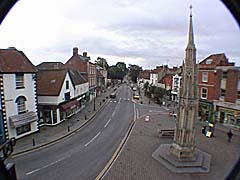 This view of the Glastonbury City Center was taken from the window of our room on our first morning in that city.

The Tor, seen from a country lane just outside Glastonbury, with the remains of a 13th-century church at its summit. Many sacred pagan sites such as this were co-opted by the Christians for their churches.
---
Friday nite we took a bus to Glastonbury, which is where we spent the day on Saturday. Glastonbury is a hippie magnet. The ruins of the abbey (destroyed by Henry VIII in the 16th century) are said to hold the remains of King Arthur and his wife Guiniviere (sp?). There is a well here known as the Chalice Well. Legend has it that Joseph of Arimathea hid the holy grail deep beneath this well, which was supposed to have contained the blood and sweat of Jesus. This legend is used to explain the red tint to the water that comes from this well, and many attribute healing powers to this water. Next to the well is the Tor, a 525-foot hill with the tower of a 14th century church at its summit. The wind was fierce at the summit, as there is nothing to stop the wind for hundreds of miles. In Glastonbury itself are endless numbers of shops devoted to various forms of ancient and new-age mysticism. You can buy everything from bumper stickers to books to artwork to crystals of every shape, size, and color. But since we must carry everything on our backs, we could only window shop. Glastonbury was a town in which we felt very much at home.

Sunday the 7th was a travel day. We activated our 8-day BritRail pass, and set out for the town of Chester, which is just south of Liverpool. From this base we will explore North Wales and Liverpool before moving on to the Lake District and Yorkshire.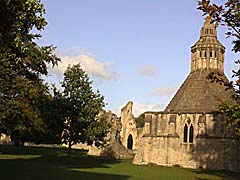 The grounds of the Glastonbury Abbey, destroyed by Henry VIII in the 16th century.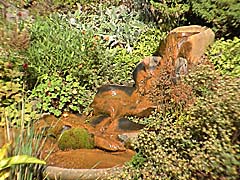 A water garden at the site of the Chalice Well.
---