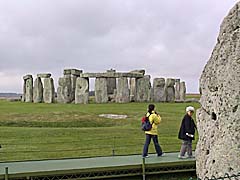 Some members of our tour group navigate the walkway around Stonehenge.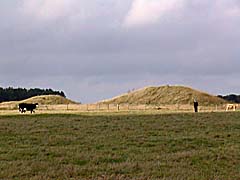 A local resident goes on his morning walk while cattle graze near some ancient burial mounds at Stonehenge.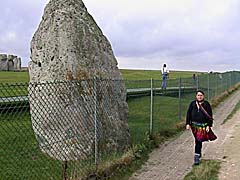 RoZ checks out Stonehenge from outside the fence.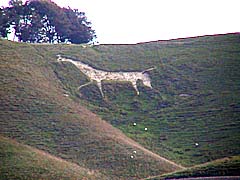 During our tour on Friday, we got to see one of several White Horse carvings from the 18th century. The small white dots are sheep grazing on the hillside.
---
After walking around Bath on Thursday, we took a little bus tour on Friday. We got onto a small bus with 14 other people and a guide to go to Stonehenge, Avebury, and a couple of small ancient villages. At Stonehenge you are not allowed to get within 100 yards of the stones, even if you pay the 4-pound price of admission. We saved our money and took pictures over the chain link fence. At Avebury there are stone cirles that you can touch. After Obbie climbed to the top of one, we were greeted by a guy in army fatigues and blond dreadlocks who claimed to be the guardian of local Pagan antiquities, and who pointed out that there are lichens on the rocks that can be damaged by such climbing (oops!). We suggested that he talk to our tour guide, who had told us it was ok to climb on the stones. Eventually, what began as an uncomfortable encounter developed into a more pleasant exchange that became a highlight of our day.

After visiting the stone circles, we went to Lacock and on to Castle Combe. Each of these towns is over 500 years old, and remains much as it was in those days. Lacock Manor is a house that looks much like a castle, and it is where photography was invented. Lacock also had some interesting gardens in its nooks and crannies. We would not have seen these towns, or much of the countryside in between, if we hadn't been on this tour (the Mad Max tour, if you ever go to Bath). Our only complaint would be that we would have liked to have had more time to spend at some of the stops, especially Avebury (where we stayed for 45 minutes).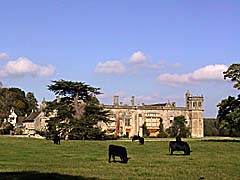 It was in Lacock Manor that the first photographs were produced.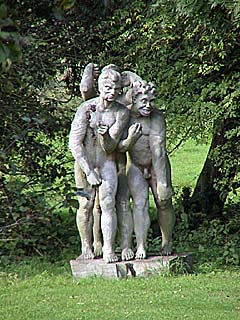 Some sculpture work found in a garden in Lacock.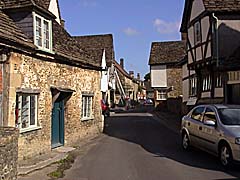 A view down one of the few streets of Lacock, which is now a property of the National Trust.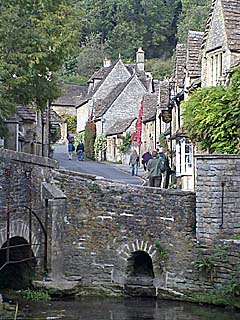 The ancient village of Castle Combe, with its stone houses and slate roofs.
---