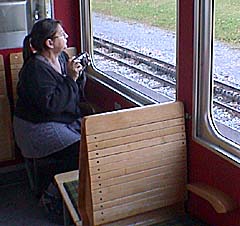 RoZ prepares to aim her camera at another piece of scenery in the Jungfrau region.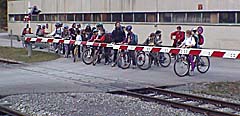 A group of Swiss bicyclists waits for our train to pass.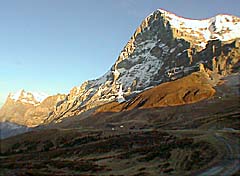 Another scenic vista from the high country of the Swiss Jungfrau region.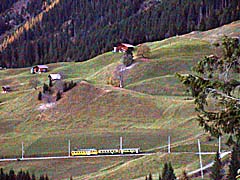 A cog train makes its way up the mountain from Wengen late in the day.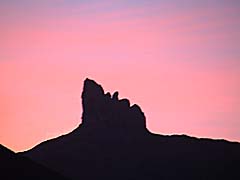 A distinctive peak is silouetted by the glow of evening twilight.
---
When we got to Interlaken Ost, we passed a long stream of geezers heading for the narrow-gauge train destined for the Jungfrau region. That was when we dubbed this train "der giezerwagen." We had to buy tickets (our rail passes gave us a discount, not full passage), which were essentially passes for the whole day. We took a big loop thru Grindelwald, up to nearly the 7,000-foot level at Kleine Scheidegg, and back down through Lauterbrunnen. Between Grindelwald and Lauterbrunnen, the gauge got narrower and we were on the famous cog railroad. These trains took us up grades that were as steep as the beginning of a roller-coaster ride, except that we never charged back down. There was no snow below about 10,000 feet (a level we did not reach), but we could see plenty of evidence of snow being an issue. Many segments of track were under long heavily-reinforced canopies which probably became tunnels through the snow. As we rose above the tree line we saw plenty of ski lifts and lodges. Through our train window we gazed longingly at the hiking and biking trails that criss-crossed the mountains. If we hadn't lost an hour in Thun, we could have easily hiked from one station to the next in that amount of time. But now we'd have to stay on the train if we wanted to see the scenery before dark. Such is the price we pay for being slackers.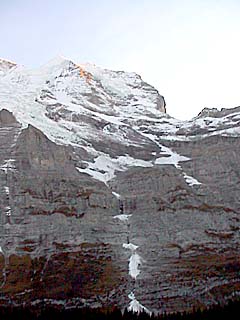 Even in wintertime, skiing on this slope is NOT recommended.
We didn't get to hike, we could only take pictures of other people hiking.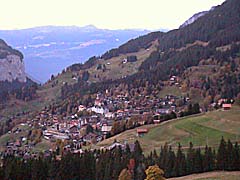 The Swiss mountain town of Wengen.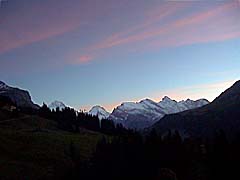 The Swiss Alps under the last bits of daylight.
---