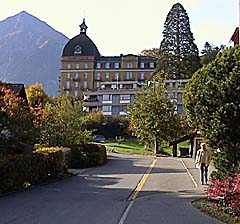 On the way from Interlaken to Brig, we changed trains in Spiez.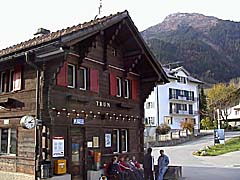 This station in Trun is typical of the smaller Swiss train stations.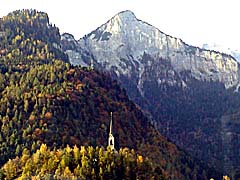 A church steeple rises out of the forest in the Swiss Alps.
---
We had to get an early start Wednesday in order to catch the Glacier Express, which only runs once each day (at least this time of year). We checked out of the Happy Inn and got the station by around 9. We payed for our Glacier Express tickets (not covered by our passes ... reservations mandatory), got a printed itinerary of our five connections for the day, and hopped back to Spiez, which put us back onto the main line between Basel and Milan. While hanging out on the platforms we noticed a cool way that trucks get moved through Switzerland: they get driven onto flat cars and ferried through the mountains ... much faster and easier than driving them on those tricky mountain roads. We didn't notice whether the drivers stayed with their trucks (probably sleeping if they did) or rode on a seperate train, but we were impressed nonetheless.

The main line train was quite scenic ... as long as it was above ground. Most of the time seemed to be spent in tunnels, some as long as 9 km. Our itinerary said that we'd do a 7-minute walk to another station in Brig, but all we had to do was walk out the front door of the station and there was our next train, the Glacier Express. It was another narrow gauge train, but not as narrow as the trains to high parts of the Jungfrau region. By the way, ALL trains we have seen so far on the continent have been electric, powered by wires suspended above the tracks. This was a total Giezerwagen, exclusively designed to give tourists a scenic ride through the mountains. When the tracks were reasonably level, the train tooled along at the customary 60 mph or so. When the tracks got steep, a set of cogs appeared between the rails that the engine would engage to climb without slipping. Occasionally pre-recorded announcements would come over the speakers in German, English and French, giving us little tidbits of information on the mountains we were passing through.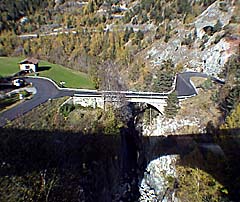 From the window of the Glacier Express, we could see the shadow of our bridge as we looked deep into a gorge.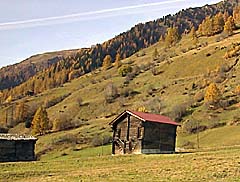 Small wooden chalets such as these were common in the Swiss countryside.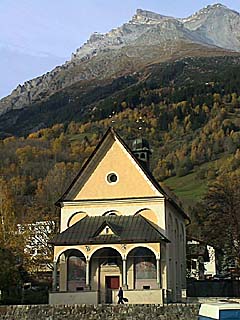 The local church dominates a small town in the Swiss Alps.
---