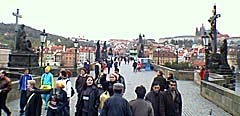 Charles Bridge is over 500 years old, and it is now for pedestrians only.
Some housing complexes overlook the canal along the Vlatava River.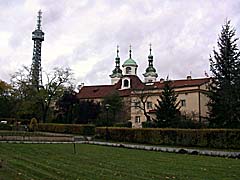 Petrin Park sits on top of a hill over-looking Prague, and it includes a small tribute to the Eiffel Tower.
Our hostess' name was Vera, a small woman about a generation older than us. She showered us with English-language guidebooks to Prague, which we were able to read to learn more about the awesome places we walked about over the next few days. Michal accompanied us to Vera's place where we left our packs and set back out to see what we could in the remaining daylight. Like all good tourists we went straight for Karluv Most (Charles Bridge). This bridge is over 500 years old, and in its day three lines of carriages could pass across its cobblestone surface. Over the years it's been enhanced with sculptures in its alcoves, and on one end of the bridge a 12-century entry tower still remains.

We walked through the area where many government buildings are to the foot of the walkway leading up the hill to Prazky Hrad (Prague Castle). This walkway was lined with small stands where artists and craftpeople sold their work, and much of it was quite beautiful. On this day we went as far as the castle entrance, which was flanked by two uniformed guards who stood at attention for two-hour shifts before another pair would march out to the entrance for the ritualistic changing of the guard. We shot some pictures from this spot as darkness fell, then we went back across the river in search of some food and drink.

Michal was so helpful as our guide and interpreter that we wanted to buy him dinner, and he recommended a tavern in the old part of the city (Stare Mesto). Here they served one of his favorite beers: Budweiser. NOT the American beer with the same name (which he regarded as urinal water, an assessment we agree with), but a fine pilsner from the Czech city of Budvar. The name was stolen and desecrated by the American brewery. Obbie eagerly anticipated sampling a traditional Czech specialty that his grandmother - and later his mother - prepared: potato dumplings. We each feasted on huge plates of traditional Czech food (which included potato dumplings - not quite like grandma's, but close enough) and pints of Budvar Budweiser. When everything was said and done, this feast for three people cost Kc500 - less than $15.

It's no wonder there are so many expatriated Americans living in Prague. The dollar is worth Kc37, and when you do the math everything is ridiculously cheap. A 24-hour pass for all mass transit costs Kc24 (65 cents). We never paid more than Kc500 ($13.50) for a meal, and first-class train fare to Ostrava (4 hours away) was Kc425 ($11.50). A kid with a reasonably decent trust fund could milk it along for most of his/her life living like royalty (well all right, maybe at a decent American working-class standard) in the Czech Republic.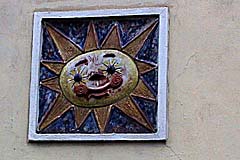 A decorated tile greets visitors from above the main doorway of a small house.
A view of the "newer" part of Prague from Petrin Park.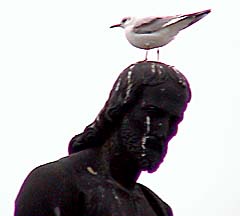 The sculptures on the Charles Bridge must contend with coal soot and impolite birds.