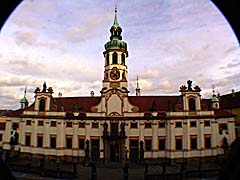 We did not have time to tour the interior of Loreta, but it is well worth taking a day to do so.
Some creative design give a 3-D effect to the wall of this building.
---
It took us two days to see all the things in Prague that we'd wanted to. On Thursday, we rode the Funicular to the top of the hill on the west side of the city, most of which is occupied by a park called Petrin. A couple of years after the Eiffel Tower was built, the Czechs built a smaller imitation up there, but the only way to the top is a long spiral staircase. We saved our energy for the miles of walking ahead of us. We followed a long wall called the Hunger Wall, which was commissioned by King Karlov to give people employment in a period of famine and poverty, and left the park near a large and magnificent monastery. From here we made our way eastward toward the western entrance of Prazky Hrad, passing buildings along the way that mere words cannot describe. It seemed like every building was a work of art, and every building had art all over it, from sculptures to glass tile mosaics to brilliantly painted frescoes. Our cameras were clicking like machine gun fire.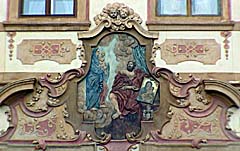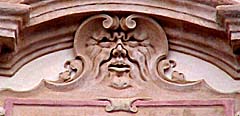 Two bits of detail from a building near the Loreta Church.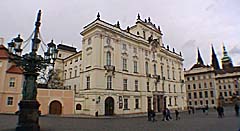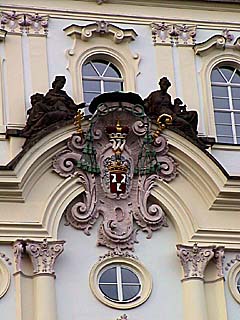 The top picture above is of the Archbishop's Palace, which is outside the west entrance to Prague Castle. Some detail of the front of that building is immediately above this text.
---