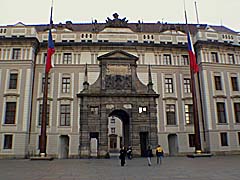 Visitors approach the West Gate to Prague Castle.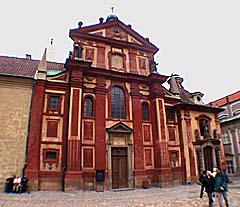 St. George Basillica is within the walls of Prague Castle.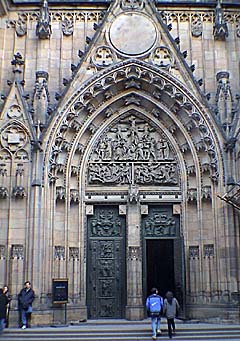 This is the main entrance to St. Vitus Cathedral.
Occasionally we put our cameras down long enough to take a few steps, and finally we walked through the western entrance to Prague Castle. This is actually a sprawling complex about 600m long and 200m wide, with the outer walls being 4-5 stories high. All of the buildings - including the walls - are still in use. The most dominant feature of the castle (and a prominent landmark of the Prague skyline) is St. Vitus Cathedral. This massive church sits within the castle walls, and dates back to the 13th century, though it's been remodelled and extended several times over the centuries, most recently in the late 19th century. After taking some pictures from the outside, we ventured in for a look at the interior. It was here that Obbie had an experience that speaks for our whole experience in Prague. As he walked far enough in to comprehend the complete grandeur of the place, all he could do was look up and breathe, "wow!..." To his left, he saw a young Japanese man, also looking up and breathing, "wow!..." Prague is a city full of "wow's."

It was getting to be four-ish, and mony of the cathedral's interior lights got turned off, which we took as our cue to go back outside. We walked through the rest of the castle, passing rectories, convents, and a toy museum (they had a Barbie doll exhibit ... we skipped that one). As we approached the east entrance, the next shift of castle guards came marching past us. We followed them to the entrance, humming the music from the witch's castle scene in "The Wizard of Oz" as we went.

We had hoped to get a good look at Staremestke Namesti (Old Town Square) before dark, but there was too much to look at along the way. As we got to the square, we were handed flyers advertising a concert beginning at 5. We went into St. Nicolas Church, where a concert was starting at 5. Turns out it wasn't the same concert we'd gotten the flyer for, but that was ok. Every church and theatre around the square has a concert or something every night, and the square is ringed with people trying to herd tourists into their shows. We sat through a one-hour program of classical harp and flute music while we gawked at the beautiful interior of St Nick's (in fact, this is the only way to see the interior of many of these places). We weren't disappointed.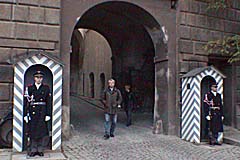 The Castle Guards stand watch over the East Gate to Prague Castle.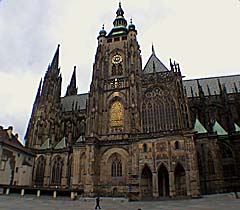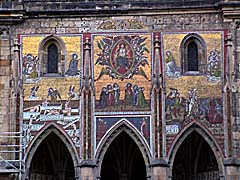 The Last Judgement Mosaic decorates part of the southern wall of St. Vitus Cathedral.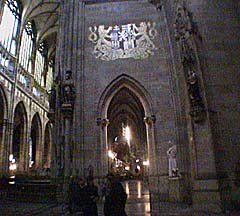 One view of the interior of St. Vitus Cathedral.