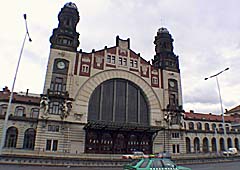 Above is a wide view of the front of Prague's main train station, and below is some detail from that view.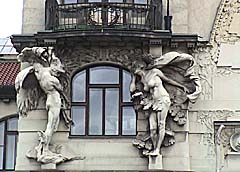 Friday's picture-taking tour began at Hlavni Nadrazi - the main train station. To shoot the classic exterior put us in a position to see some of the rough edges left behind by the Communist era that hadn't been repaired yet. We'd see plenty more rough spots in this country in the coming days. We moved on to Vaclavske Namesti (Wenceslaus Square), which is a wide boulevard over a half mile long. At one end, Vaclav sits up on a horse in front of the museum (fulfilling what seems to be a major requirement to qualify as a world-class city), and he looks at an expanse lined with more architectural specimins which we are running out of adjectives for. We worked our way toward Staremestke Namesti by way of Obecni Dum (a magnificent theatre building). We got to see the square while the sun was still up.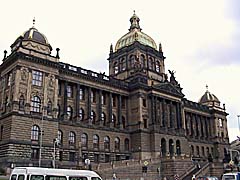 Above is a view of the front of the Museum, and below is a look back toward the museum from the middle of Wenceslaus Square.