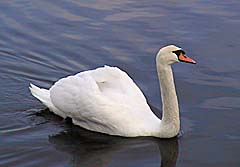 A Christiania swan.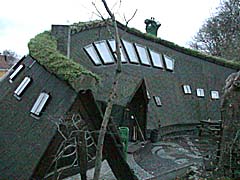 A unique piece of Christiania architecture, the "banana house."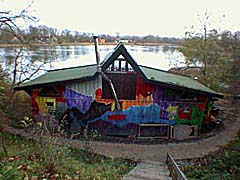 The trail along the canal passed behind this shoreside house.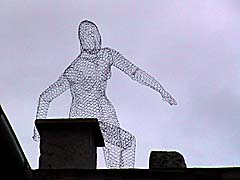 On this Christiania chimney we saw an unusual thing that can be done with chicken wire.
It took us all weekend to walk around and explore all of the nooks and crannies of Christiania. The place felt like a big populated park. In fact, much of it felt like the marsh area of our home town of La Crosse, complete with a menagerie of bird life. On Saturday afternoon we were taking pictures of a very cute house, and out came Tanja ... it was HER house we were photographing. She didn't mind, in fact she invited us in for tea.

We spent a couple of hours talking with Tanja about the politics of this wonderful society that is evolving in Christiania. Tanja does not use cannabis, but she has a couple of plants in her yard because she likes how they look. She was horrified to learn of what could happen to an American caught with plants in their yard (Most other Europeans were equally horrified). It was here that we learned of the internal discontent developing over Pusher Street. The biggest problem is that the products sold on Pusher Street are "imported," meaning that the pushers' suppliers are REALLY seedy characters associated with organized crime and all of its evils. Furthermore, little or none of the piles of money flowing through Pusher Street comes back to the community. There is no tax on the sales, and there's not even a fee on booth space. Other than the pushers themselves (who unfortunately yield a lot of political power in Christiania), most citizens would prefer that the cannabis be produced locally and sold in coffeehouses so that the greater community can gain some benefit from the income generated. We hope the coffeehouse movement in Christiania is successful.

It's a shame that the availability of cannabis is the center of attention for most people who come to Christiania, because it overlooks the bigger and far more important story of this place. This is a community of 800-1000 people who have made something out of nothing and who continue to work their asses off to make this a beautiful place. They have their own economy and their own system of government. The grand social experiment is the big story of Christiania, and we hope the creativity and innovation of this place can benefit the rest of the world for centuries to come.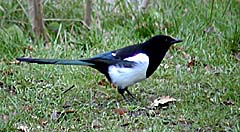 The elusive magpie finally stands still long enough to be photographed.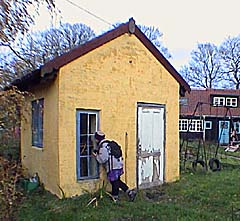 RoZ peeks into a Christiania guest house in which we've been invited to stay when we come back.
This piece of functional art is either an oven or a kiln.