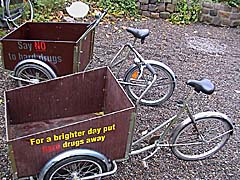 A pair of Christiania Bikes, a cross between a bike and a hand cart that was invented in Christiania.
A bit further on we met Tanja, a thirty-something single mom who was bringing food home in her Christiania bike. We got to talking about local and world politics while she let us try out her bike. Picture a two-wheeled box-shaped garden cart, with bicycle wheels on each side and a handle on the back. The center of the axle pivots on the front of a bicycle frame, much like the front fork pivots in the frame of a normal bike. As the bike frame comes out from under the cart, the rest of the bike is similar to a normal bike with a step-through frame. The rider sits on the bike which is powered by the single back wheel and steers by turning the cart and its two wheels on the front. The three-wheeled design yields good balance with a carrying capacity of 150 kg (over 300 pounds). Denmark is mostly flat, so hills aren't much of an issue, but there are models equipped with drum brakes and as many gears as you'd want.

We got a tour of Christiania bikes from a guy named Klaus who caught us studying them after breakfast on Saturday. We had a long and wonderful conversation as we looked at another two-wheeled Christiania invention. This bike was a tall upright where the seat balanced on a wide elastic strap where the crossbar would normally be. The seat placement enabled a very smooth ride, and the overall design enabled the rider to sit high and upright while in an optimum position for power and breathing, much like on an American recumbant bike. RoZ suggested that we buy one for Obbie and take it home. Obbie thought it would be good to try one out for several days of day-to-day riding before making such an investment (the good ones are over $1000). The Danes regard their bikes as we do: as primary transportation worthy of investment in quality. Next time we come, we'll try one of these bikes out.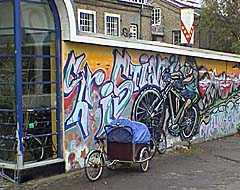 Outside this Christiania bike shop, a Christiania bike sits parked with its rain canopy in place.