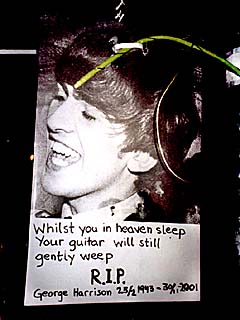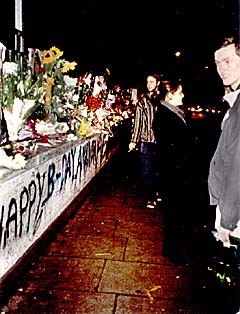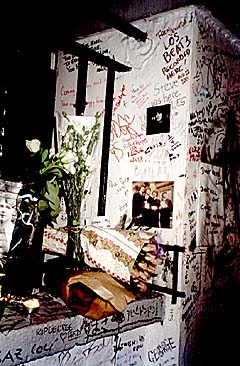 For the third night in a row, we had to make plans for our "last night in Europe." One thing we knew for sure is that we didn't want to stay hunkered down in a sterile airport hotel. We had plenty of time to take the tube into the city and DO something. We heard that small crowds were gathering at significant Beatles sites to pay tribute to George Harrison. We decided to make a return visit to Abbey Road, and we called Jen & Gabe to join us.

Getting there wasn't as hard as we'd feared. Our hotel was within a "Heathrow Airport free fare zone," so as long as we boarded the right bus we wouldn't have to pay to get to and from the tube station. As it was, just about every bus that came by could take us to the tube station, which took all of about ten minutes.

Gabe was waiting for us when we arrived at the St. John's Wood station, and Jen came a couple of trains later. Even though they'd been living in London for several years, they never took the time to go to Abbey Road. We made the short walk to the studio and the long white graffitti-covered wall we'd visited two months earlier. The entire length of this wall was covered with flowers, candles and momentos. A lot of people left poetry; some of it was written in pencil on a napkin, and some of it was neatly produced by a laser printer. There were laminated pictures of George, pieces of artwork, a decorated ukelele, and hundreds of bundles of flowers with condolence cards. Though this "exhibit" was spontaneous and temporary, it was one of the most moving displays we'd seen on this oddyzee.