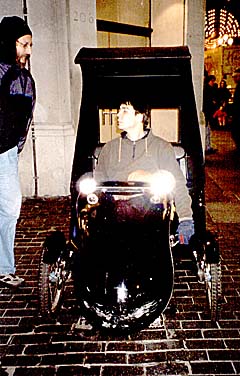 Obbie questions the operator of a London pedicab on the vehicle's modern recumbant design.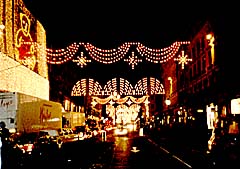 A view of London's Oxford Street on a Saturday night in early December.
After paying our respects, Jen & Gabe took us to see some parts of London we'd missed on our arrival visit. We took the tube to Soho, where we saw some Hare Krishnas go marching by through the mobs of club and pub hoppers (not an unusual site in most major cities, but it seemed to fit in with this night's theme). After downing pints in a smokey basement pub, we walked about the festively crowded club district of Soho, then wandered on through the dark and quiet upscale shopping districts along Regent Street and Bond Street. Somewhere in between we found 3 Saville Row, which looked like the fashionable professional office building that it is. A bundle of flowers and a handwritten note betrayed that someone else appreciated this building's place in history. We were standing at the doorway to the building where the Beatles played their last public concert: the rooftop concert shown in the movie "Let It Be."

We all had one more dinner together in Chinatown, and finished just as the pubs started closing. To maintain greater productivity in the work force, British pubs close at 11. We're told it was only recently that they allowed the pubs to stay open past 9. We all followed the bar time crowd into the nearest tube station, from which the two American couples would set out in opposite directions for their respective journeys home. We bid a hasty farewell to Jen & Gabe as they boarded their train for the East End, then we went to the other side of the platform to begin our journey back to Heathrow.

There was a bus waiting at our connection at Heathrow, but it was dark. Then the driver woke up from his nap. He turned on the lights, fired up the motor, and finally allowed the small crowd of waiting passengers to board the bus. We were back in our room by 1:30. We reminded ourselves that it was still early evening in Chicago, hoping to somehow psychologically prepare for a radical time change.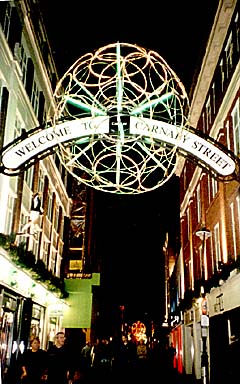 A nighttime view of Carnaby Street in London.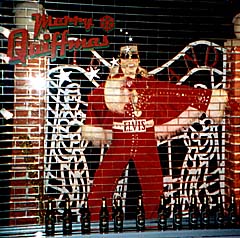 A dancing Elvis manequin upstages a nativity scene as the store display beckons, "Merry Quiffmas."